Stepping out of the shadow of sexual abuse and living your dreams
Easy to read Information, Support and Hope
Being sexually abused is one of the most destructive events that can occur to someone, especially a child. It can lead to feelings of pain, shame and trauma which stay with a person throughout their life, damaging their adult relationships and preventing them from living life to the full.
This does not have to be the case, however! Rebecca Mitchell, who was sexually abused as a child by someone close to her, passionately believes that you do not have to be defined by your past. Whatever damage you have suffered in the past, it is never too late to put on a new pair of shoes – to build a successful future and live your dreams.
New Shoes offers simple, friendly and achievable advice for stepping out of the shadow of sexual abuse and discovering the hidden inner strength that will give you hope and self-confidence today.
Rebecca Mitchell herself a survivor of childhood sexual abuse, founded 'Into the Light' for people who have experienced sexual abuse and those that support them. She holds several professional qualifications in counselling and group facilitation, and has written widely on sexual abuse, relationships and dating.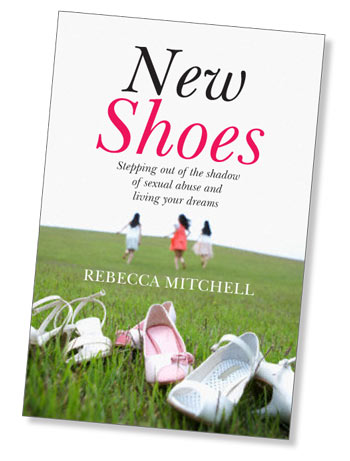 How can you get New Shoes?
You can buy New Shoes from Into the Light or you can order from:
Amazon (click to visit website)
Lion Hudson (click to visit website)
Order New Shoes from Into the Light
If you'd like to pre-order, please send a cheque for £9 (inc postage and packing) to: Into The Light, PO Box 64427 London W5 9HA
Other good bookshops.
The ISBN no is 9780745955520
Keep updated about New Shoes
If you'd like more information about New Shoes, please email us on info@intothelight.org.uk or visit our Facebook page.
New Shoes book review
Acc Magazine Review of New Shoes
Greta Randle the CEO of the Association of Christian Counsellors has reviewed New Shoes for Acc Magazine Review of New Shoes.
Extract from review
'On first reading the book seems simple and the message obvious, however within its simplicity I had moments of being impacted by how profound it is.'
click to download review
New Shoes by Rebecca Mitchell
'New Shoes is a much needed book for the one in four people who have experienced child sexual abuse. It offers friendly and effective help and support from someone who really understands'
Lynne Franks (Broadcaster, Business Woman and Lifestyle Guru)
10% of Rebecca Mitchell's profits to go to Survivors Charities.